Turkish Towels - Mediterranean Luxury
Our towels are a traditional, flat, woven Turkish towel, created in the 14th Century to accommodate Turkish bathing culture.
They are a durable, yet lightweight cloth, made from premium Turkish cotton. The fabric is spun to create very thin, yet highly-absorbent material.
These Turkish towels are well known throughout artisan communities, and are highly sought after in the market as versatile and invaluable items in everyday lifestyle.


Explore our Collection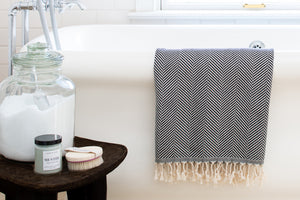 Michael Duru Essentials
801 Broad St.
Shrewsbury, NJ 07702
Mon - Fri, 10 a.m. - 6 p.m.
Sat, 10 a.m. - 5 p.m.
Closed Sunday
Available for Private Appointments